Balboa Park Running Tour
Why not do a tour of Balboa Park on the run?! It's easy and fun!
When planning your visit and looking for best places to run in San Diego, consider our running tour in Balboa Park. 
Balboa Park "Bridges and Gardens" Running Tour
We run a 3.1-mile course (5K) at an easy pace, weaving through El Prado, gardens, museums, by the San Diego Zoo, and certain points of interest mentioned below. 
We stop during the run to discover hidden gems, take photos, and learn about Balboa Park's history and culture. 
We end the run with a complimentary hydration beverage and a memorable t-shirt. 
IMPORTANT: This Balboa Park tour is not for walkers. Please do not bring dogs, or strollers. There is no bag check. Please store your belongings in your car, or bring a light-weight running backpack. 
Cool Facts & Hidden Gems - Balboa Park Tour
One of the top things to do in San Diego is to visit Balboa Park - the largest urban cultural park in the United States. 
Balboa Park is often bustling with tourists and locals. With 16 museums, 17 gardens, and dozens of other indoor and outdoor attractions, there are many cool things to see and do, as well as a few hidden gems that only locals and experienced tour guides would know. 
It can be disorienting, especially if you are planning to run in Balboa Park. We have designed a tour that minimizes road crossings, and meanders through many of the gardens while avoiding unnecessary foot traffic.
If you are looking for a tour in Balboa Park - Consider running with us! 
Here are a few hidden gems that we cover during the tour.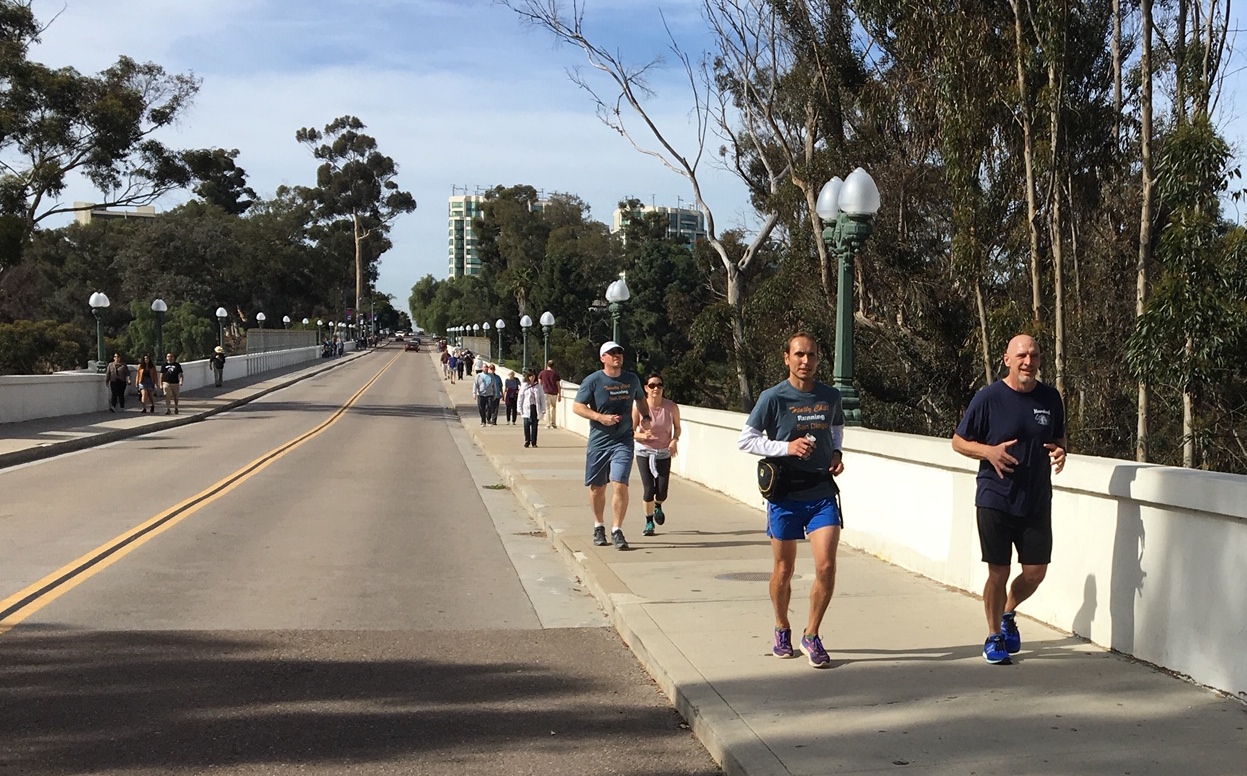 1. At 1200 acres, Balboa Park is home to three major canyon systems: the Cabrillo Canyon on the west, the Palm Canyon in the middle, and the Florida Canyon on the eastern side. All three canyons cut deep gashes through the park, and if it wasn't for the Cabrillo Bridge, we would have to climb up a steep hill to see all the museums. The Palm Canyon is a tropical oasis home to over 450 palms (58 different species).

2. Moreton Bay Fig may be the largest Ficus tree in San Diego, and the second largest tree of its kind in California, but the most rare and unique tree in Balboa Park is a Kauri pine (well-hidden from direct view yet right in the midst of all the action). This Kauri pine was planted here sometime around 1920, allegedly by Kate Sessions (the grandmother of Balboa Park Trees); and is expected to live 2,500 years as Kauri pines are known to be some of the oldest-living trees in the world. 
3. Most of the buildings in Balboa Park (like the most-photographed California Tower) were built in 1915 for the Panama-California Exposition to commemorate the opening of the Panama Canal. However, most people pay no heed to the entrance archway which actually declares when and why it was built:  in Latin "Mare Pacificum 1915 Mare Atlanticum."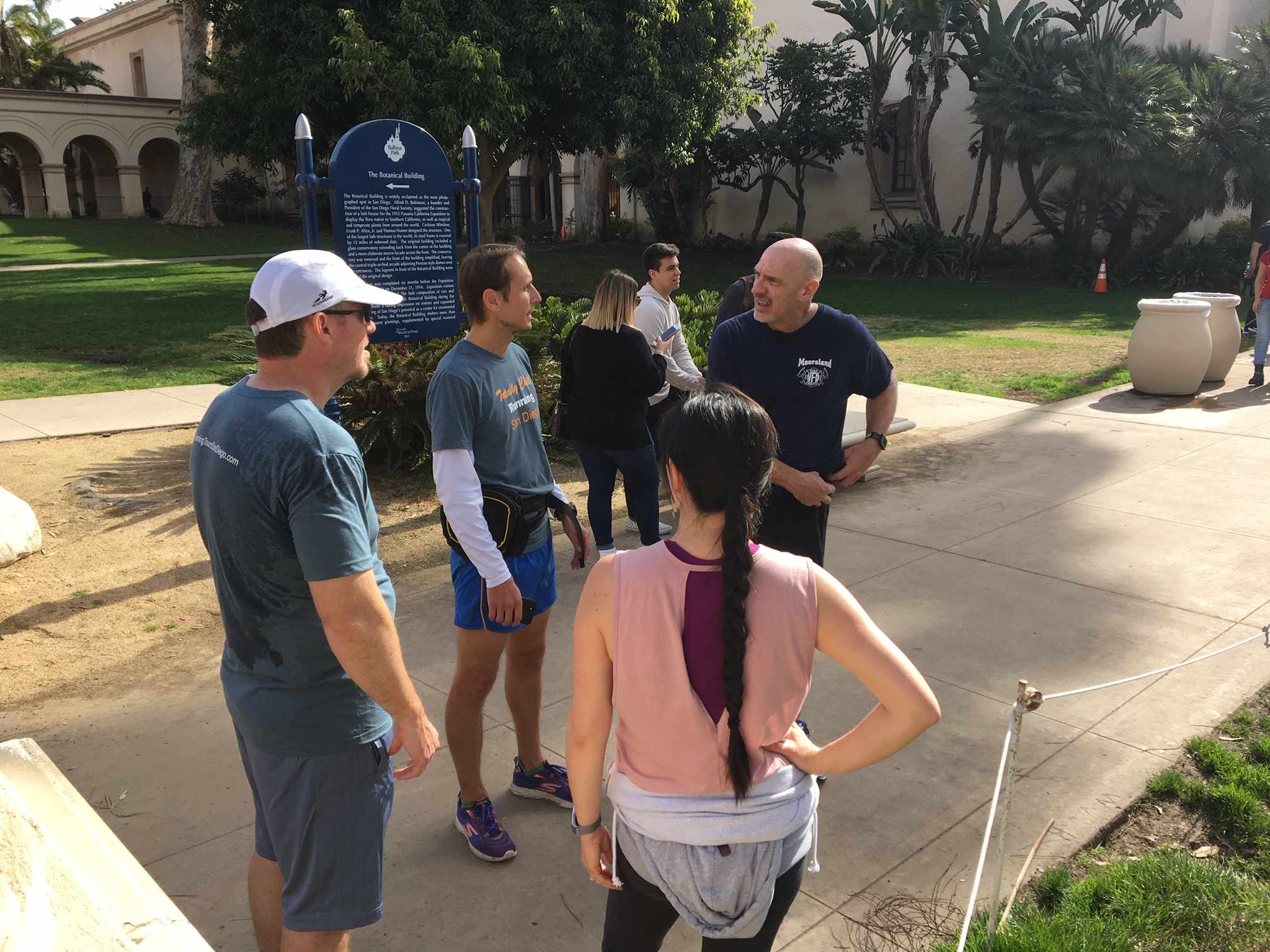 4. The Botanical garden building (also built in 1915) houses over 2100 permanent plants including many rare plants. However, one of the most impressive features of its design is that it is the only botanical building of its kind as it contains no glass windows or covers - instead its sides and roof are made entirely of 12 miles of wooden lath! 
Balboa Park Tour Start/Finish: Daniel's Coffee inside Spanish Village (1770 Village Place, San Diego, CA 92101)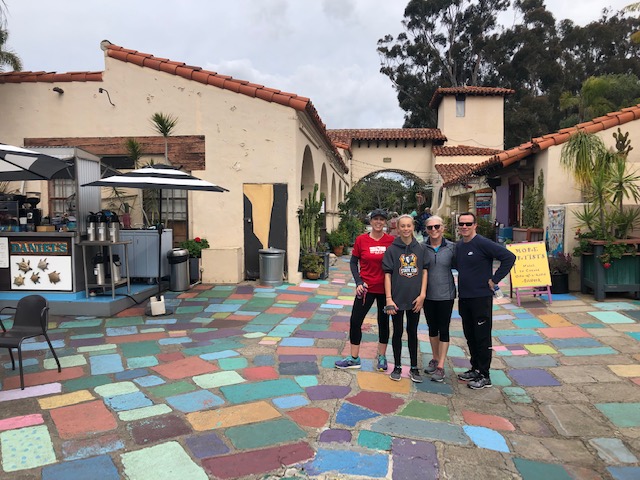 Best Places to Run, San Diego - Balboa Park Tour - must see!